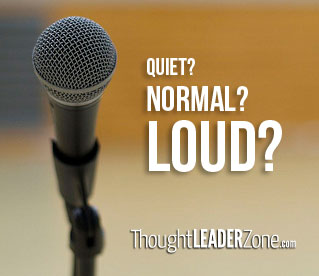 Sound check! When you take the stage, you want to make sure the microphone is on and emanating the perfect level of sound for the audience and venue.
Do you as a thought leader have the perfect level of sound for the situation you're in? In general, you as a thought leader should have three sound levels: quiet, normal and loud. Let me explain.
Thought leaders need time built into their schedules for contemplation, a time when they can think deeply and listen to what the silence reveals. They need to be still and quiet, not talking at all.
At other times, thought leaders need to join into discussions at a normal pitch, as if they're just like all other members of the team. They're equal contributors so they need to modulate their voice levels.
The third level of sound for thought leaders is loud, but not necessarily in volume. They don't need to shout to be the voice of reason in heated exchanges or debates. They just need to be loud as in commanding and authoritative, perhaps even lowering the pitch of their voices to their deeper ranges to get attention.
Do you have "perfect pitch" when you communicate as a thought leader? Ask, assess, then act. We're here to help!