See related post: Gray Matters, Part 2: Engage your organization's emerging, next-generation leaders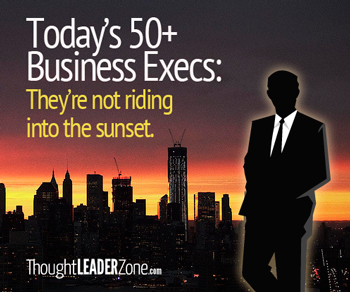 Some bad news and some good news for over-50 workers who are hitting the proverbial "gray ceiling" in their careers but are unwilling to "ride quietly into the sunset."
The bad news is statistical, as recently reported in a survey by ExecuNet and captured in the infographic shown below. Their survey reported that 63 percent of search firms say it's harder to place a 50+ candidate than a younger one, compared with only 52 percent in 2010.
However, the corporate recruiters surveyed also said that the key advantages to hiring people over 50 include the following:
Depth and breadth of experience
Business knowledge
Credibility in their field
Political savvy/influence
Good judgment
Work ethic
Wide range of contacts
People skills
Emotional stability
Commitment to organizational goals
Customer service perspective
What advantages might you as a thought leader add to that list? Do you think that those characteristics can be found also in under-50s employees? Participate in the dialogue by clicking here or by adding your comments below.
Are you capitalizing on all the advantages of over-50 workers in your business? Ask, assess, then act. We're here to help!
See related posts:
Another Gray Matter: Dorian Gray and Lessons in Authentic LeadershipPart 2: Engage your organization's emerging, next-generation leaders