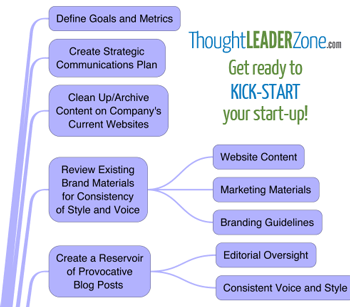 If you're launching a new company, you'll want to create a thought-leadership strategy to cement your reputation. Follow these 10 steps (and see our
companion visual guide
) to develop a plan that will guide you as you kick-start your start-up:
Define Goals and Metrics
Create Strategic Communications Plan
Clean Up/Archive Content on Company's Current Websites
Review Existing Brand Materials for Consistency of Style and Voice
Create a Reservoir of Provocative Blog Posts
Finalize Website Content
Design Launch Events
Design Thought Leadership Plan for Post Launch
Build/Document Internal Communications Processes
Develop External Communications/Media/Branding Guidelines
Do you need help implementing any of these steps? Ask, assess, then act. We're here to help!