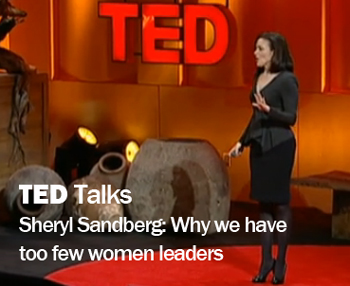 My 30-year-old stepdaughter recently sent me an interesting and entertaining video link  featuring Sheryl Sandberg, the COO of Facebook. Sandberg pointed out some of the gender inequities in the business world and offered three "self-help remedies":
Sit at the table. Sandberg has seen women who don't take a seat at the table in important meetings but remain on the sidelines, both literally and metaphorically.
Make your partner a real partner. Sandberg emphasized the importance of having a supportive spouse as you climb the career ladder.
Don't leave before you leave. Sandberg noted a tendency among women in child-bearing years to stop "raising their hands" well before they actually need to take maternity leave.
Sandberg also cited a Harvard Business School study that showed how success and likeability were positively correlated in men, but not in women. Gender stereotypes can be reinforced by the lack of positive role models for women in the workplace — women who are successful and well liked by male and female co-workers.
It's not that most women don't want to be successful.  A study by the Center for Talent Innovation found that 91% of senior-level UK women surveyed, compared with 76% of UK men, want to be promoted.
On a lighter note, however, journalist Arianna Huffington thinks that women have a more difficult time being successful in their careers for another reason. They don't get enough sleep. In fact, she says, that's why women really should sleep their way to the top…in a chaste way, of course.
Are you as a thought leader clearing away the barriers for women in your organization and helping them find the way to success at the top? Ask, assess, then act. We're here to help!
See related posts:Part 3: Female leaders "having it all:" Myth or achievable goal?
Part 1: Pink Matters: Women are still scarce in the C-suite