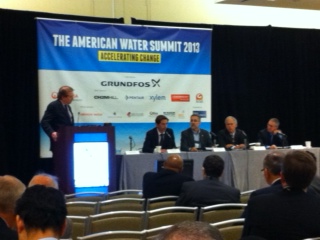 Thought leadership in the water industry was on full display at the fourth annual American Water Summit, organized by Global Water Intelligence (GWI), from 5-6 November 2013 in Washington, D.C.
Several hundred global water leaders attended sessions with US mayors and other elected leaders, Environmental Protection Agency and US Army leaders, trade association leaders, industry specialists, venture capitalists, private equity analysts, etc.
Highlights of the full water conference can be found in this "Top Tweets" list from the Twitter feed #aws13.
On the night before the conference, a CEO-level roundtable dinner was sponsored by GWI. Christopher Gasson, publisher of GWI, welcomed about three dozen members of the Global Water Leaders Group (GWLG).
William Muhairwe, head of the GWLG and former director of the Uganda water utility, opened with a comparison of operational performance of utilities with that of an airline. Both try for perfect performance and public safety depends on that success.
Among the goals of this particular roundtable dinner were the following:
*to provide a networking opportunity for thought leaders in the industry *to create a body of influence for promoting and communicating the value of water *to debate ways to improve operational performance among utilities
For further information about the Global Water Leaders Group and the findings from its qualitative research, click here.
Are you as a thought leader concerned about communicating positive messages about your operational performance? Ask, assess, then act. We're here to help!