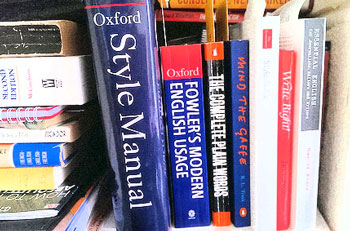 Teaching is on my mind right now as the schools in Zurich have recently opened. That's because I once was an English teacher—and once an English teacher, always an English teacher.
In fact, when I moved from academia into the business world, I retained my reputation as a Grammar Guru and a Punctuation Policewoman. I plead "intentionally guilty" to the charge of insisting on high-quality, mistake-free writing in business documents that matter. And they all matter.
Yes, as a thought leader, even your emails should be error free when it comes to grammar and style. Advanced tools help you to spell-check and grammar-check, and there's even a fail-safe way to ensure you don't hit send without taking time to confirm its accuracy one last time. (Contact me if you need instructions on that.)
But more critical documents require more thorough editing and proofreading to make sure your messages have the impact you intend. Subtle changes in style and tone and improve the persuasive value of your writing. Grammatical "guffaws" and "gaffes" can devalue your discourse.
Many businesses today are recognizing that reality and trying to rectify it. In a 2012 survey  conducted by the Society for Human Resource Management and AARP, nearly half (45%) of 430 employers said they were adding training programs to improve employees' grammar skills.
Several style guides exist to help you polish your writing style; some of these books you'll remember from your own English classes.
5 Practical Reference Sources for Grammar and Style
Your company's communications team may have a style guide of its own or at least a strong preference about which one to use. The key to raising the quality bar is to demand consistency in style and grammar…Consistently right, that is.
Do you need a brush-up on how "grammar matters and style rules"? Ask, assess, then act. We're here to help!
Photo Credit: Terry Freedman