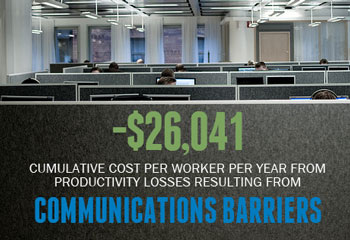 As a business leader, how do you measure the impact of your internal communications? Does it differ from the way an educational leader measures the impact of internal communications in schools? I was asked to address this question in a presentation to a progressive international school in Germany earlier this year, so I'd appreciate your insights on the comparisons.
On the business side, a group called People Driven Performance conducted research on the costs of poor internal communications in 2009 that still has applicability today. They report that good internal communications has a positive impact and poor internal communications has a negative impact on five elements of a company's ROI:
Engagement
Every employee that crosses over from being disengaged to engaged adds an incremental $13,000 to the bottom line each year
Direct Cost of Miscommunication
$26,041 is the cumulative cost per worker per year due to productivity losses resulting from communications barriers
Opportunity Cost
A business with 100 employees spends an average downtime of 17 hours a week clarifying communication, which translates to an annual cost of $528,443
Safety
The average cost of a safety incident for an engaged employee is $63, compared with $392 average cost of a safety incident for an unengaged employee
Turnover
Employees with the highest level of commitment perform 20% better & are 87% less likely to leave the organization
If you're in education or academia, what is your impression? Does poor internal communication in schools have a similarly negative impact?
Whether you're an educator or business leader, contact us if you're interested in improving your internal communications impact and your organization's ROI along with it. Ask, assess then act. We're here to help!