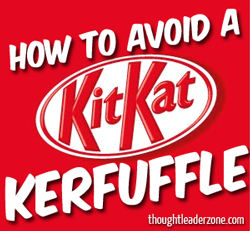 "It" is your social media reputation and "it" deserves a few minutes of discussion about how to handle "it" particularly during times of crisis.
Obviously the best metaphorical medicine for managing reputational risks is a healthy dose of preventative medication. But sometimes a crisis flares up and you need to do triage and respond as quickly as possible. A team that is constantly monitoring your online reputation can take swift measures if a crisis develops.
Nestle, the Swiss-based company, has set up a "digital acceleration team" to respond rapidly and appropriately to manage corporate reputational risks online.
From the Financial Times: "When the team sees problems, the communications unit co-ordinates the company's engagement with the relevant parties, such as suppliers, campaigners, governments and consumers."
A recent article  in the
Financial Times,
How Nestlé dealt with a social media campaign against it, 
explained how the team responded to a social media "kat fight" focused on its Kit Kat chocolate brand. Their crisis strategy was an adaptive one that included short- and long-term approaches.
Are you and your communication teams ready to protect your reputation online? Is everyone in your organization capable of responding swiftly and effectively? Can they handle "it"? Ask, assess, then act. We're here to help!