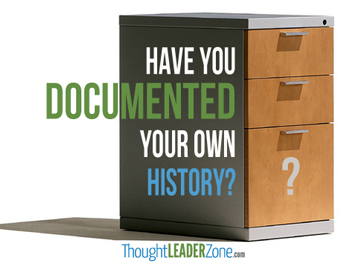 "History will be kind to me because I wrote it," Winston Churchill once said. If you are a thought leader in your industry, then you are writing your own history every day. But are you fully documenting that career path as you take the journey?
Each company or position is another chapter in your history book. Take time soon, if you haven't already, to capture sample pieces of documentation or videos or articles about you that belong to each chapter of your work life.
Beyond the CV: Items that help fully document your career and professional history
Articles or papers or presentations you have published
Articles written about you
Resumes, CVs or short biographies while you were in each role
Reference letters
Photos of you and your team in action
Videos of interviews
Short descriptions of each company and position
List of trade or industry associations you belonged to in each role
Sounds a bit like a comprehensive personnel file, doesn't it?
Be a tough editor of your professional history book. Edit out any unnecessary pieces; but resist the temptation to rewrite history by only including complimentary articles or video clips, for example.
One last tip: keep these items in a safe, dry, accessible place.
Are you the historian of your own career? Are you keeping copies of clippings and videos and presentations that document your full career path and demonstrate your thought-leadership journey? Ask, assess, then act. We're here to help!