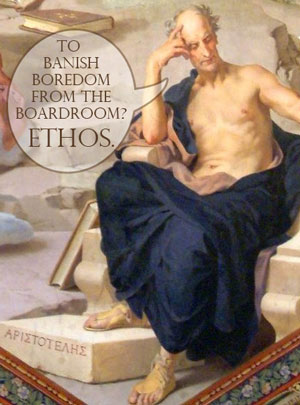 Do you ever have to persuade others to persuade others? Then here are some modern hints for you from a very old source.
A friend sent me the link to a fascinating (well, fascinating for a rhetorician like me) article in Business Week called "Jay Heinrichs's Powers of Persuasion" by Peter Heller.
Rarely do you read an article in mass media that mentions Aristotle, but this piece points out how the Greek philosopher's teachings apply in today's business world. One of the three stalwarts of classical rhetoric – along with Socrates and Plato – Aristotle taught that the three purposes of discourse were
to teach
to move
to delight
In a business setting, before writing a speech or even an email, it's critical to ask yourself which of those three goals you are intending to fulfill and then analyze what would be the most appropriate way to do that for your particular audience.
Emphasizing the power of rhetoric (the science of argumentation and debate), Aristotle also taught about the three tools of persuasion:
ethos – appealing to the "character" or inner goodness of the audience member
logos – appealing to the rational, logical thought processes of the audience member
pathos – appealing to the emotions of the audience member and stirring up empathy or sympathy
Jay Heinrichs, the rhetorician featured in the Business Week article and author of Thank You for Arguing, says that the first tool, appealing to a person's character or better self, is the most effective for persuasion. Logos, he says, doesn't draw the audience in as much, so it's harder to convince that person.
Convincing others – especially those who need to then persuade others – often takes a gentle hand. Someone once described a good rhetorician as a person who has the ability to "convince without seeming to argue and compel without seeming to urge."
To do those things well, Heinrichs suggests you may need to change verb tense to future tense as that's the "language of choice and decisions." The past, however, focuses on "blame and punishment," and the present is more about "belonging," which is why using the future tense may be the better rhetorical approach.
If you're interested in reading more about the topic of rhetoric in the workplace, two rhetoric websites that Heinrichs produces are www.figarospeech.com with some great current examples of persuasion at work and www.wordhero.org, which features his latest book.
Are these hints helpful? Have I successfully persuaded you to consider how rhetoric can help you in your daily work as a thought leader? Ask, assess then act.